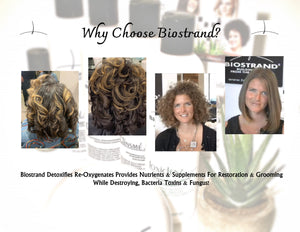 What You Need To Know About Biostrand Products!!
All Biostrand products have been paraben free since 2015…. Ingredients may appear on older packaging.
Biostrand products use a naturally derived preservative from Green tea called phenoxyethanol…
Biostrand's conditioning formulas contain vitamin B5/pants at all which is a natural element that helps the skin to retain moisture longer and it's natural shine softness and strengthening to the hair…
Biostrand products contain SAGE which helps to provide nutrients to the hair and scalp to revitalize strengthen and thick and the hair root...
Biostrand products contain NETTLE which is an anti-inflammatory ingredient that helps to protect the scalp and also rich in IRON MAGNESIUM & ZINC which provide nutritional support & bulk to the follicle and hair root.
Biostrand products contain HORSETAIL GRASS which helps to thicken the hair and strengthen at the hair follicle and Maximize fullness of every hair strand.
Biostrand products contain GLYCERINE which has a very high moisture retention affect on the hair strand allowing moisture to be gathered to the hair from the atmosphere. This optimizes shine and performance!
Biostrand products contain HYDROLIZED SILK PROTEIN which is the only protein of its type which helps to oxygenate & moisturize the hair while strengthening and adding maximum elasticity, Strength & Body to each hair strand.
Biostrand products contain natural purified SHEA BUTTER which helps to moisturize and heal the scalp and also provides natural shine & moisture to the hair and scalp…
Biostrand Signature Collection 8oz.
ANN'S BIOSTRAND TRANSFORMATION
Need to keep your hair shining and in good condition all day?
BIOSTRAND:
Building Hair From The Inside Out
WE LOVE YOUR HAIR!!!
One way to get this done is through our naturally enhanced hair care products. Our range of products is specially formulated to take care of your hair and give it optimum performance in the most natural way possible without any residual damage. So what are you waiting for? Achieve better hair care in South Holland, Illinois, by availing of Biostrand products today!
Mild with light fragrances
Heal and correct any disorder in the scalp
For both natural and chemically treated hair
Work alongside the body's natural pH
We help you build your hair from the inside out!
Three Products every head of hair should know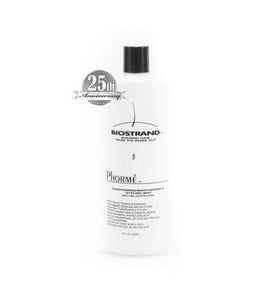 PHORME'
When blow drying or using other thermal tools on your hair, there is a risk of the hair being damaged due to a large supply of heat. However, PHORME' is designed to keep your hair's natural lustre softness intact, no matter the amount of heat applied. PHORME' can also be used on any hair type or body to make it shine and glow more. Is your hair a little rough in the middle of the day due to all that working or playing? Apply PHORME' and get your hair refreshed again.
Buy Now
FINE'
Looking to increase your hair strength? FINE' is just the right product. It also helps to create the natural proper moisture balance and shine that your hair needs to make you glow all around. Other protein products could cause hair dryness but FINE' counteracts this effect by gradually increasing its strength, maximising your hair's lustre and shining quality.
Buy Now
SCALPASN
Scalp issues are one of the dreaded hair conditions out there. The hair is prone to dandruff, itching, flakiness and scalp irritations from chemical use. The good news is that lots of products may promise to get rid of these scalp problems, but SCALPASN actually gets the job done. It not only clears up dandruff and other irritations but it also builds up hair follicles which encourages healthy hair growth. This is also complemented with SCALPASN's ability to retard the bacteria that causes odor.
Buy Now
WHY PICK US?
Biostrand is not like any other hair product manufacturer around; we have a quality that makes us unique. In the last three decades, we are the only company that has been able to create hair care products that detoxify, re-oxygenate, replenish your scalp, infuse nutrients and help reduce toxins and bacteria in your hair NATURALLY.
At BIOSTRAND WE LOVE YOUR HAIR!!!♥
Biostrand Signature Collection